Home

/

The bottom line is - DON'T wait to get checked! October is Breast Cancer Awareness Month
The bottom line is - DON'T wait to get checked! October is Breast Cancer Awareness Month
It's Breast Cancer Awareness Month and at AJP Industrial Supplies the bottom line is - DON'T wait to get checked!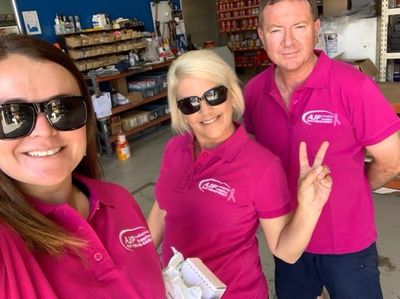 Breast Cancer is unfortunately a very common illness, and every woman thinks 'It won't happen to me', but guess what – it does!
This is Lyn's story.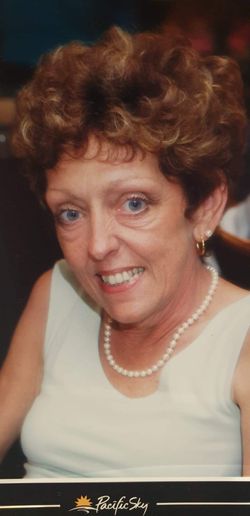 This is a cause very close to our hearts after losing one of our own, Lyn Clarke to breast cancer in 2011. Lyn was only 53 years young when she passed away after a 9 year battle with the disease.
Lyn had noticed a lump in her breast and didn't think too much of it and having such a busy lifestyle running their (Bob and Lyn Clarke, two of the founders of AJP Industrial Supplies) then business QME Supplies, and being a very much in demand grandma was always 'too busy' to get to the doctors. She noticed over time that the lump got larger, and by the time she did actually get to the doctors, the cancer had spread.
Lyn endured countless kemo treatments, lost one of her breasts in the hope of beating the disease, only to find that it had spread to her organs and bones. Lyn grew tired of feeling sick and going through treatment and made the difficult decision not to continue. The cancer was Stage 4 at this time and the cancer had already taken over her body. With the treatment making her feel so ill she felt it was best to enjoy her last days feeling as well as she could to enjoy that time with her family.
We sadly lost Lyn to this horrible cancer. Please don't wait until its too late – if you find a lump, any shape or size, go and get it checked - for yourself, your family and all those who love you.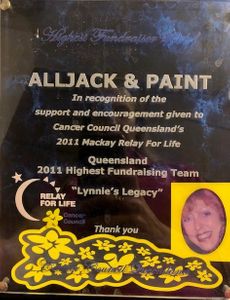 AJP Industrial Supplies went on to raise money for Relay for Life in memory of Lyn Clarke in 2011, and became Queenslands Top Fundraiser for that year raising $53,000 for Cancer research, and were able to name a cancer research grant after Lyn - 'Lynnies Legacy'.
We hope that hearing Lyns story will motivate you to act immediately at any sign or suspicion of Breast cancer or any cancer for that matter. RIP Lynda Clarke – you will always be remembered.